PHOTO OP ENTRY
Mardi Gras - Fantasy Masquerade contest.
Entry deadline January 28, 2006
SUBMISSION Information:
Your name: Tonie Cook
Address: P.O. Box 5186 - Akron, OH 44334
email Address: charlino99@hotmail.com

Date: January 21, 2006


Category Division:
Fashion Doll - Small repaint / redress
Original Doll information: Ideal Pos'n Tammy Doll (12" Tall)
Creation Name: Ideal Tammy - The Mardi Gras "Model Miss Demeanor"
---
1 - before picture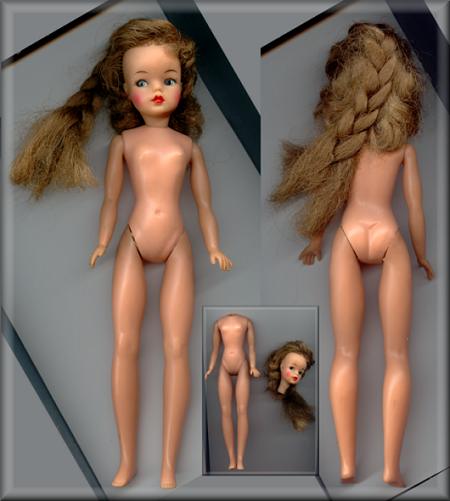 This is a Pos'n Tammy doll made by Ideal Toy. Ideal Toy produced Tammy dolls from 1962 - 1966. This is the 'before' picture of the actual doll used for this contest. This dirty doll's issues included a vintage semi-fixed broken neck wedged into her body, with original face paint faded in spots, chipped in others. The doll's dirty hair was stiff and felt like straw.
2 - portrait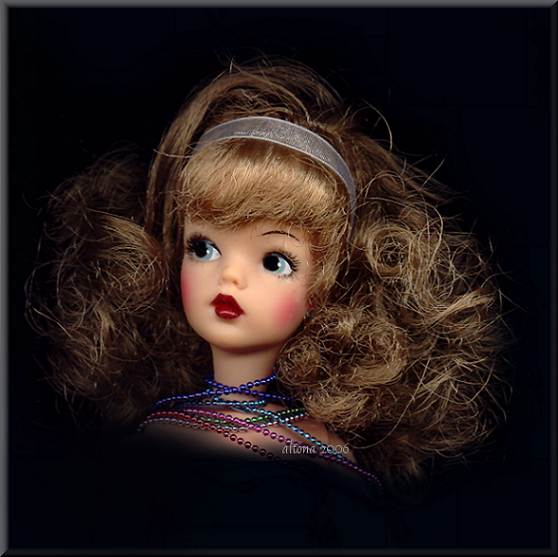 Ideal Tammy - Mardi Gras "Model Miss Demeanor"
3 - full body front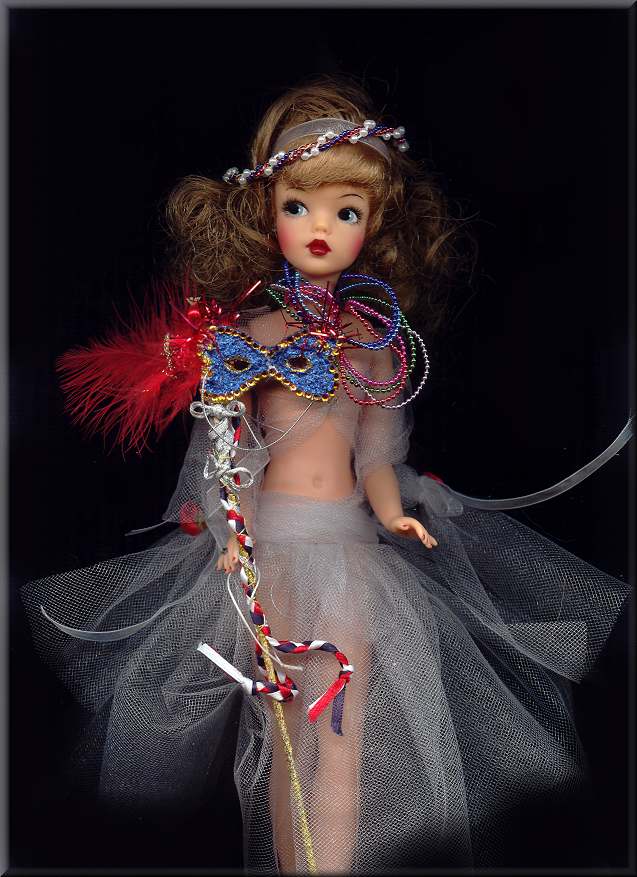 Full Front
4 - full body back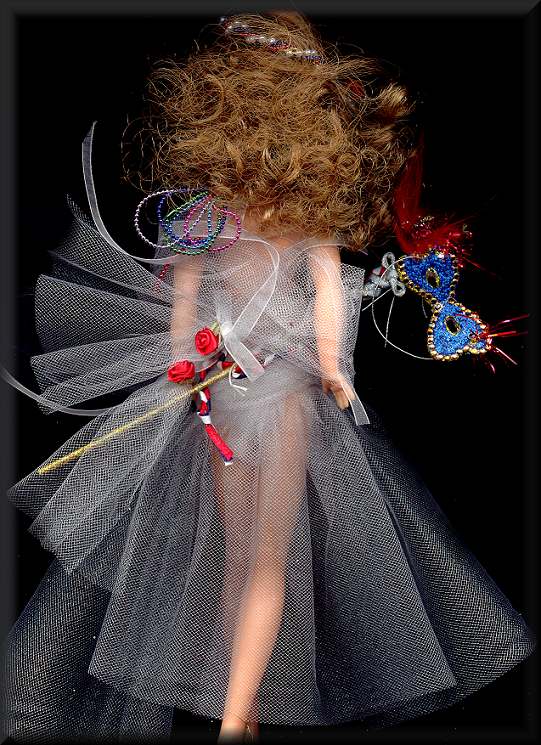 Back
5 - any pose you think shows your doll off the best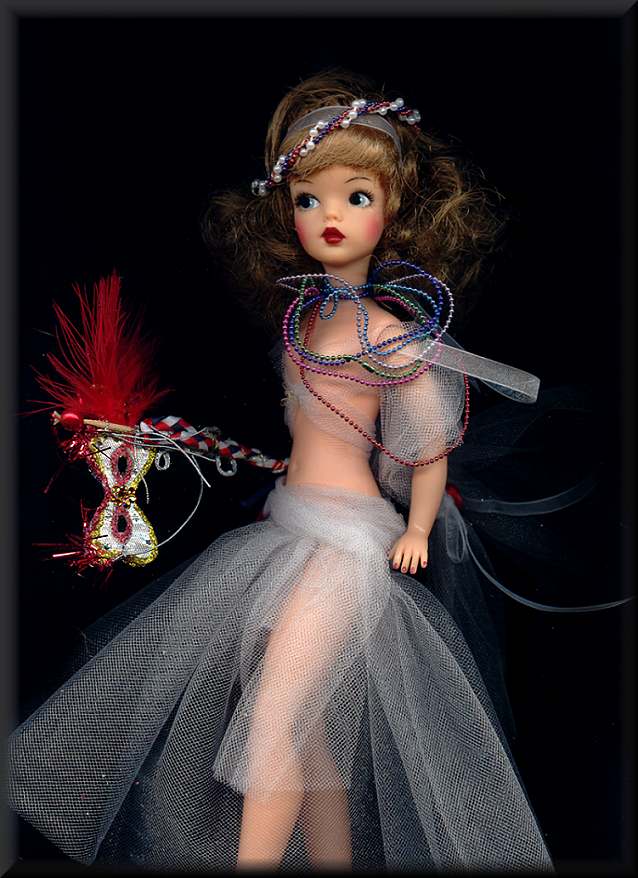 6 - photo that shows the detail finishes of the outfit on the inside or outside; or shoes you have crafted for the outfit -- if you want - not required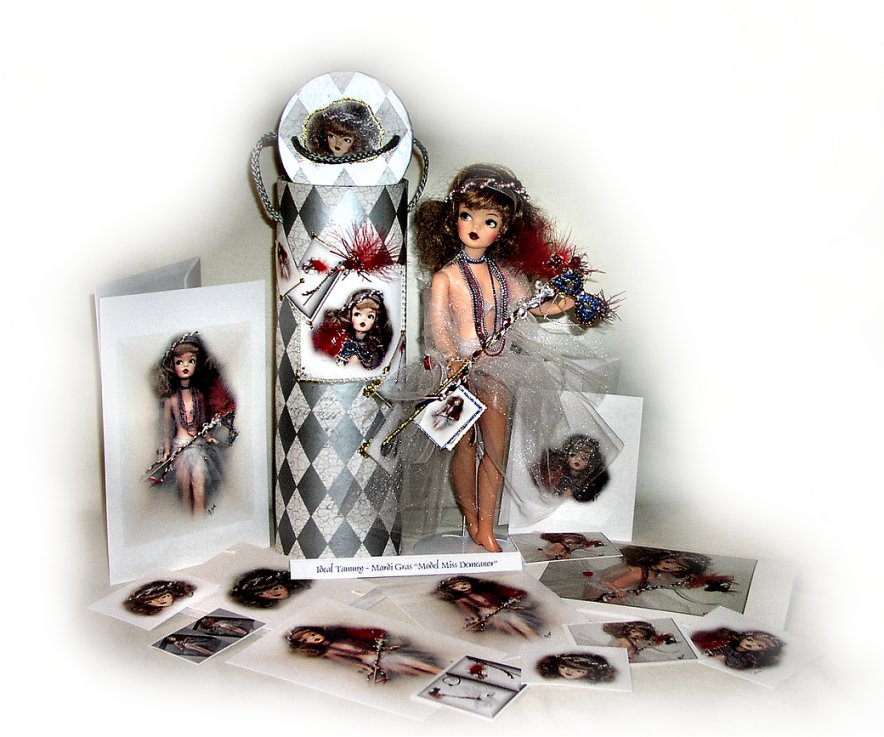 Tammy's Mardi Gras Ensemble
Tammy's Mardi Gras Ensemble includes: OOAK Tammy, Custom Lingerie, Custom Carry Box, Cards, Wrist Tags, and Accessories. Tammy's Mardi Gras Mask was designed to be fully functional. The reversible mask can be removed from the staff and worn directly on the doll - in either direction. Reversible Mask is embellished with Swarovski Crystals on both sides. All Mardi Gras beads can be opened or closed via ball/barrel clasp.
---

Miscellaneous
---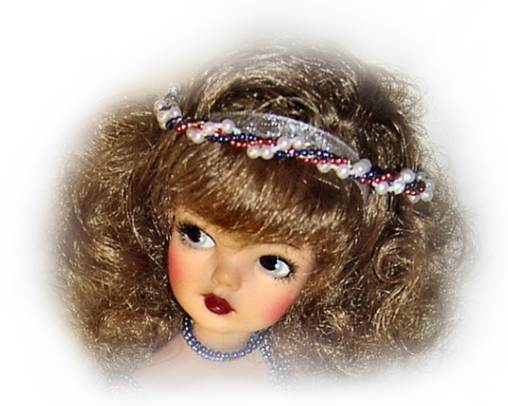 Tammy's Mardi Gras Make Over Info: This Tammy survived sink rehab, neck surgery, wardrobe fitting, and a trip to the salon. Tammy's make up was enhanced to correct her deficiencies. (For the record, I do not repaint perfectly good-faced Tammy dolls. That's blasphemy. However, this doll was in pretty rough shape. The extra work was required to help this doll get a second chance at being a good toy for play or display.) Tammy's hair was styled to compliment her overall appearance, and provide her with a different, more modern look. (For the record, Tammy's hair was not cut. The doll's hair can still be styled with the traditional braid crowning her head.)

The pictures herein are submitted for Mardi Gras Photo Op Contest only. All work contained herein - including photography - was done by my own hands.
Thank you for your consideration, and thank you for viewing my entry.